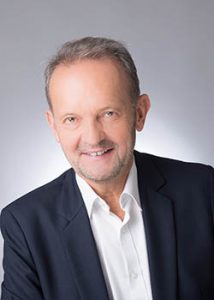 "Being coached encourages personal changes that promote improved leadership and performance."
A leader's performance is naturally linked to his/her professional skills, whether hard or soft, and their personal development As a former executive, I coach my customers to become increasingly responsible and effective leaders.
Background
After an early career with the European Commission, I quickly moved into the business world. Over the course of 25 years, I held successive positions in business development, group strategy and general management in a FTSE 100 company in London, and a well-known French family-owned group. For 10 years, I held successive positions on the Boards of two French companies in the pharmaceutical and cosmetics sectors. Since 2001, I have devoted myself exclusively coaching. In 2003, I co-created Praesta France, part of Praesta International, made up of former business executives. Today, we remain focused on delivering "business" results ' by coaching individuals and their organisations. I have dual French and British nationality, so I am obviously bilingual and understand both cultures. I have lived and worked in the United Kingdom, Belgium, Australia and France, where I now live with my wife and three children.
Experience  
Accredited as a Master Coach by the leading professional coaching organisation, I coach executives, individuals with high potential and their teams in international groups. In addition, I have a good understanding of the specific issues related to the management and transfer of companies with family-owned equity. As part of my responsibilities as VP for Regulatory Affairs for EMCC, I work with the European Commission in Brussels, and thereby contribute to improving quality standards in the profession. I coach in French and in English.
Education
BA Honours Philosophy, University of Manchester
MBA, INSEAD, Fontainebleau, France
"Ecole Française d'Analyse Psycho- Organique"
Various coaching courses (Paris and London):

Individual coaching
High-performance teams
Systemic interventions

Master Coach Accreditation (EMCC)
Vice-President, European Mentoring and Coaching Council – 5000 members internationally
Assessor, coach training programmes (EMCC)
Assessor, individual coach Accreditation (EMCC)