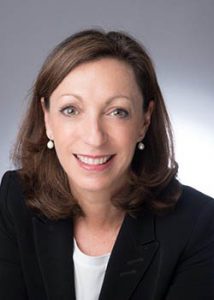 Rosemary Marzio is a bilingual certified coach (English mother tongue). She has an international business background. For more than 10 years, she has been coaching managers and teams facing the challenges of a complex, global world that is constantly changing. Her objective is to enable individuals to develop their long-term efficiency, creativity and potential. Customers appreciate the way she builds relationships based on trust, her insight (which enables her to go to the heart of the issue), her pragmatism and her ability to find the right balance between challenge and support… not to mention her slightly British sense of humour.
Background
Rosemary was born in South Africa. She spent the first 18 years of her career in the business and consulting sectors in New York and London. As a trained lawyer, her last position before becoming a coach was Senior Vice President and Legal Director of The Walt Disney Company in Europe. She was responsible for a large pan-European legal team, and served on several management boards. In this context, she provided technical legal advice to the managers with whom she worked on a daily basis, but also enabled them to step back from situations and look at them from a different angle. Driven on by this experience, she did specialist training in coaching when she moved to France, and then joined Praesta France in January 2008. Alongside her work with Praesta, Rosemary is a coach at EM Lyon Business School and a member of the board of directors of "Orphelins Sida International" (AIDS orphans International NGO).
Experience
Rosemary has extensive experience in coaching executives and their teams in various sectors (pharmaceuticals, luxury goods, public services, new technologies, consulting firms). Her coaching addresses a wide variety of situations, including the taking up a new job, the transition from manager to leader, change management, leading a team, developing emotional intelligence and a leadership position. Rosemary's background has given her a thorough understanding of the specific challenges of consulting firms and multi-national, multi-cultural groups.
Education
Institut Transformance, France – Individual and collective coaching certification
Accredited EMCC, MBTI, FIRO-B, The Leadership Circle Senior Practitioner
Trained in several relevant coaching approaches, including: Systemic Team Coaching and Transformational Coaching (Prof. Peter Hawkins); Systemic Coaching and Constellations (John Whittington); Neurolinguistic programming; Transactional Analysis; Positive Psychology Coaching (Wholebeing Institute)
University of the Witwatersrand, South Africa – BA and Master's in Law
University of Cambridge, England – Master's in International Law