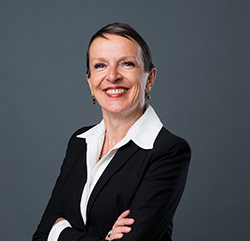 "Optimism is essential to achievement, and it is also the foundation of courage and true progress." Baden-Powell
Catherine bases her coaching on a positive and constructive approach to lead managers and their teams in this journey. She aims to reinforce strengths and talents, and focus on the accomplishments: looking for the positive core of strengths and being solution-oriented allows the organization to be more efficient and reach its goals.
Experience – Career path
Catherine has been working in marketing and communication for 17+ years in various sectors (media, leisure, VOIP, financial communication, education) in France and the US during two years.
As an ExCo member, Catherine became more and more interested by supporting her colleagues and the teams. She realized that any successful organizational change requires leadership and people development. In 2010 she thus he trained in professional coaching at the International Coaching Institute (Paris-Geneva).
Catherine is a certified coach member of the EMCC. She works with managers and their teams, both individually and collectively.
A vision – A practice
Specialist of Appreciative coaching in companies/organizations, Catherine considers herself as the sparing partner for managers, executives, and their teams.
She aims to lift constraints, assert and strengthen talents, along with every positive result within the company to create the energy and movement toward performance.
Catherine believes that a positive and constructive attitude, a challenging dialog, and a strong vision of a positive future give each person and each team the energy and momentum to their objectives success.
She helps managers to embrace their role and assert their talents. She sets them in motion by listening, challenging, sometimes confronting – and always smiling.
Catherine coaches in French and English.
Education
Institut Supérieur de Gestion, marketing and communication
Coach certified, Institut de Coaching International
DISC & Driving Forces
Appreciative Inquiry – teams, individuals, and leadership/management
EQ (Emotional Intelligence)
Belbin – Co-development – Neurosciences for coaching
Transactional Analysis (101)
PNL (key tools)
Member of EMCC France
Contact Catherine Ambrosi