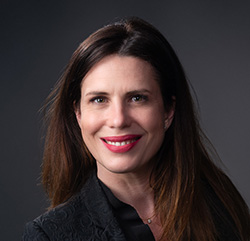 " Of the two ways of solving a problem, I will always opt for the third." (Nietzsche.)
Coaching, as an invitation to find one's third way…
The way to give the best of yourself and to reach performance while respecting your ecology. The way to achieve impactful and sustainable leadership and lasting transformations.
Background and Experience
A graduate from ESSEC Business School, Marie has held strategic and operational marketing positions for more than 15 years in multinational companies (Nestlé, Henkel, L'Oréal) and in the French Dairy Cooperative Sodiaal, where she was a member of the management committee. From these experiences, Marie has developed a keen understanding of organizations and their challenges, and an ability to address new and strategic issues. She has also developed a taste for developing teams.
In 2019, she started an Executive Master on Data and Marketing at Sciences Po Grenoble, from which she graduated top of the year. While writing her thesis "Data as performance booster for NGO private fundraising campaigns", she understood the necessity to accompany changes within organizations focusing on a human-centered approach. She then decided to train in professional coaching.
Marie is now a certified professional coach by the International Coach Center (RNCP 7) and a member of ICF. Marie has been a walking enthusiast since 2003 – the year she walked 900 kms on the way to Santiago de Compostela – and continues to walk and hike in the Alps where she lives. She loves to accompany her clients on coaching walks.
And when she is not coaching, she practices improvisational theater and has regional responsibilities (Savoie, Haute-Savoie, Ain and Isère) within an international NGO.
Experience as a Coach
Marie assists leaders and their teams in both individual and team coaching. She accompanies them with enthusiasm and commitment to redefine their leadership for a more positive impact and a sustainable global performance.
Being well-aware of the challenges faced by leaders and their teams, and familiar with situations that are out of the ordinary, she willingly focuses her energy on finding new solutions. She offers her clients her attentive listening and integrity, as well as an appreciative, rhythmic, and customized approach to create a space for creativity and problem solving.
Education & Qualifications
ESSEC, Master in Management.
Executive Master "Data & Marketing" Sciences Po Grenoble x Média Institute
Professional Certified Coach by CIC.