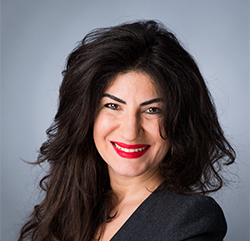 "Are we to paint what's on the face, what's inside the face, or what's behind it?"
–Pablo Picasso
Background and Experience
Maya draws on her rich international and multidisciplinary corporate experience, in which she led strategic transformations and managed relationships with high-profile stakeholders such as senior civil servants, government agencies, shareholders and investment communities.
After fifteen years, she turned to what deeply drives her: supporting others in their inner transformations. She coaches leaders, consults large groups and trains teams. Since 2016, she has been a regular speaker in the Executive Coaching programme at HEC Paris.
A Beirut-born citizen of the world, she has worked or studied in Geneva, London, Paris, Madrid, Montreal, Toronto, Dubai, Abu Dhabi and Beirut. She coaches in French and English. She also speaks Arabic, her mother tongue.
Coaching practice
Conscious of leaders' need to strike the balance between their expressed leadership style and their deeper authentic self while aiming for professional excellence, Maya's coaching helps fine-tuning this calibration. One question she often asks is « Who are you in this experience? ».
She strongly believes in the importance of a leader's inner journey, because such exploration can contribute to an improved personal performance, impacting the team's modus operandi, or that of the company, the couple, the family, the community… the whole ecosystem. It is this alignment that allows leaders to catalyze change around them, both on personal and professional levels.
At ease with transformations, whether within multinationals or international organisations, Maya is no stranger to the difficulty of exploring one's psyche and internal worlds. Her integrative approach combines elements of leadership practices, change management, jungian depth psychology and systemic approach. This is how she supports her clients to explore their multi-dimensional self.
Education
iMBA, York University, Toronto
Master's in Psychology and Psychotherapy (in progress), Sigmund Freud University Paris
Bachelor's in Psychology, American University of Beirut
Certificate in Executive Coaching: Expertise & Advanced Training, HEC Paris
The Systemic Approach in Coaching, Dr. J.A. Malarewicz
Certified Practitioner in Neurolinguistic Programming, ELTY Geneva
Certified Practitioner in Change Management, PROSCI
Certificate in Design Thinking & Creativity for Business, INSEAD
Certificate of Investor Relations, IR Society UK, London