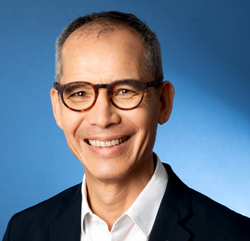 "The beauty of the world only takes on meaning when it is apprehended and internalized by a human soul […] a resonance that goes from soul to soul until it touches all the stars. "
Norbert, born in Vietnam, fled the war to join his paternal family in France where he settled permanently with his family. Rich in his dual cultures, Norbert fits naturally into a quest for a balance of opposites that comes to him from this Taoist philosophical vision of "Yin and Yang", dear to François Cheng.
Course and Experience
After a high-level sporting career, Norbert turned to films and cinematographic production where he accompanied for more than 35 years many directors, directors and producers in the implementation and realization of their artistic projects.
Throughout his career, he managed technical and artistic teams before managing projects as production director of international TV Commercials (Europe, USA, Asia, China, Thailand, South Africa, Cuba) for major brands ( L'Oréal, Danone, Unilever, Procter & Gamble, Renault, Peugeot, etc.) and for their communication and advertising agencies (Publicis, J. Walter Thompson, Mc Cann Erickson, Oglivy, etc.).
In 2006, he was asked by a film school to lead training courses in film production.
Passionate about human relationships, the development of individual and collective potential and personal balance, he first experiments and then trains himself in different psycho-corporal approaches such as Sophrology, Ericksonnian Hypnosis, Mindfulness, Tai Chi, Qi Gong and Shiatsu, approaches that focus on the "body-mind" relationship as a field of knowledge of oneself and of others. And this is what brings him quite naturally to the coaching that he had already experienced as an athlete in the form of mental preparation with a psychologist-coach from INSEP (National Institute of Sport, Expertise and of Performance).
With coaching, Norbert finds a way to bring together the world of business and that of sport, both in constant search of performance and optimization, by placing the human dimension at the heart of it.
Coach practice
Since 2013, Norbert has been working as an Executive Coach, Trainer in Human Relationship Management and Mental Coach for High Level Sport.
He has developed a solution-oriented approach to coaching that is both pragmatic, humanist and global, centered on the person, while integrating the existential and phenomenological dimension, a source of flexibility and adaptability, at the service of decision-making and strategic vision.
Education
University of Paris 8 – Diploma of Higher University Studies in Coaching
Paris Descartes University – Master in Human Sciences
GOLDEN © certified – Typological Development Inventory – PEARSON TalentLens ECPA
SPOTLIGHT PROFIL® certified – MindFlick
Member of ICF France (International Coaching Federation)
Professional Performance Coach certified by INSEP
Sophrologist and Existential Sophrotherapist
Practitioner in Shiatsu and Do-In and Traditional Chinese Medicine
Karate-Do Coach – 4th Dan