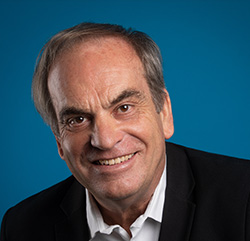 Succeeding in a position of manager today or leader tomorrow requires listening and agility skills. To support these key positions within companies, it is increasingly common to use coaching and strategic mentoring.
Philippe believes that the two terms are related and complementary. They each have one thing in common: the human, and interaction with others in specific situations.
Background and Experience
With a scientific background, Philippe was quickly appointed General Manager at a German company subsidiary at the age of 30. This decision-making experience, early in his career, allowed him to develop adaptive and reflective skills that served him throughout all his career. He then continued his career in a Japanese company before joining one of France's largest analytical laboratories.
His career took a significant step forward with a large American group. He learned a lot about the culture of coaching in his leadership roles. This is where he learned to coach his teams and more, where he taught his managers how to practice coaching in a natural way.
Philippe then held many positions before Vice President Sales Europe, a very enriching multicultural experience. His career then continued in another US group where he managed the development of the Middle East Africa region and operated in regions as varied as Europe, Russia, Africa, the Emirates, and the United States. He practised multicultural management and adaptation to permanent changes.
More recently, Philippe decided to use this wealth of encounters to use it for companies where people are the most important, where the transformation is permanent and man's skills are seen as a priority. He allows them to face the changes that must be perceived as opportunities, challenges and nourish the pleasure of the challenge.
Coaching practice
Sport is part of his life. The practice of various activities such as sailing, tennis or handball has made him aware of the need to constantly learn and face challenges. Beyond nourishing his humility, this practice has revealed the pleasure he feels in passing on what he has learned. He has notably been a Handball sports coach for women and men. He still uses these values today in his personal and professional life.
With more than 20 years of multicultural coaching practice, Philippe has passed multiple American certifications and has applied them in many countries at all levels of management he has held.
Philippe likes to focus on listening because "we can only inspire people if we know what they want."
Education and training
Diploma of TSS control and analysis of materials, University of Rouen
Ongoing of ACSTH certification by Activision Coaching Institute of the Variations International Group (I.C.F Accredited)
Richardson Leadership Coaching Certificate, Coach Coaching
Wilson learning Coaching Certificate