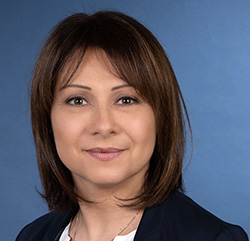 "if you think adventure is dangerous, try routine… it's deadly !" Paulo COELHO
Because the Executive does not know routine, and because every day is an adventure, professional coaching allows him to clarify his ideas and to give meaning to collective action.
Experience and background
At the heart of human resources development since her initial training, Régine has led her HR career with passion and enthusiasm in a wide variety of sectors (passenger transport, engineering, chemical industry, specialized trade). She has always been driven by two principles: acting in the collective interest and facilitating adaptation to change.
Convinced that competence is the central lever of a company's performance, and that people are at the heart of entrepreneurial success, she decided in 2013 to pivot.
To live the change and to accompany the transformations of companies became an evidence.
Régine intervenes as a professional coach and business mentor with executives and managers, to build a strategic vision, find levers for value creation, develop synergies, establish legitimacy…
Because the transformation of a company depends on the transformation of its management teams, Régine readily presents herself as a lever for achieving the objectives of the leader.
"Shaking up certainties and building something new" could be her motto. Unconventional, both funny and serious, Régine pushes to revisit a reality and to imagine other possible futures.
Focused on the individual and on the group, listening to the challenges of the leader, she creates a space of trust and freedom conducive to transformation.
As a volunteer, she is involved with young entrepreneurs in their identity building and strategic deployment of their company.
As a lecturer at the Bordeaux University School of Management and the Institut National Polytechnique, she shares her best practices with professionals and engineering students.
Coaching practice
According to Régine, coaching consists in becoming aware of and living the adventure of oneself with others.
Beyond the resources mobilized, her coaching seeks to bring out the meaning (the direction and significance) of the action and the role, to facilitate the achievement of the targeted objectives.
Régine holds a Master's degree in Professional Coaching from the IAE in Bordeaux. For the past 9 years, she has been putting her systemic vision to work for the development of leaders and their teams.
Also a Business Mentor, she works alongside the Leader as a business confidant in the service of the organization's economic and social performance.
Training
IAE of Bordeaux : Master of Professional Coaching
ADINVEST INTERNATIONAL – Business Mentor Certificate
IGS (Paris) : Master in HR Management and Development
EPMN – Certificate in Relational Quality
EMCC France member