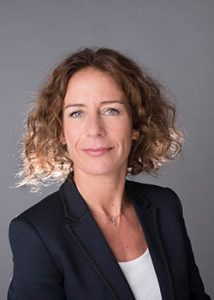 Fransje is a certified coach with 12 years' experience in coaching senior executives and management teams. Her background in international management and consulting enables her to integrate human, cultural and managerial aspects in her approach. She specialises in managerial development, leadership, change management, cross-cultural awareness and collective performance. Her dynamic approach aims to achieve the target objectives by fostering talent and developing new skills while embracing the value of differences.
Background and Experience
Fransje was born in the Netherlands and has a Master's degree in Business Administration. From 1997 to 2000, she worked for the Randstad Group where she held various sales and management positions in the Netherlands. From 2000 to 2003, she worked as an HR Consultant with Flex HR, working on both strategic and operational projects in several international companies. During this period, Fransje developed her skills in supporting managers and senior executives through the processes of organisational change. In 2003, she and her family moved to Cairo (Egypt) where she worked as Managing Director of CareerMidEast.com (a subsidiary of Orascom Telecom Holding). This experience allowed her to draw fully on her managerial and entrepreneurial skills. She learnt how to manage the complexity of cross-cultural issues and integrated these skills in her approach to coaching. Fransje has been living in France since 2005. Drawing on her various experiences, she completed a university course in coaching and launched her own business. She founded Dunya Consulting in 2006, working with management boards, management teams and senior executives in major French and international groups. In 2015, she joined Praesta.
Experience as a Coach
Over the last 12 years, Fransje has mainly been involved in individual and collective coaching. In addition to her coaching approach, she designs and coordinates leadership, management development and team-building programmes for workshops, training courses, seminars, conferences and co-development groups. She uses a systemic coaching approach. She draws on many, diverse methods and tools such as NLP, mindfulness, Non-Violent Communication, team analysis, and Managerial Co-development. She coaches in French, English and Dutch.
General education
University of Paris 8: Higher-education University Studies in Coaching (Master's degree, 2007).
Rotterdam University of Economics (Netherlands): Master's in Business Management (2002).
University of Rotterdam (Netherlands): Master's in Geography (1997).
Certifications and accreditations:
NLP Certified practitioner (IFPNL)
MBTI Certified practitioner (OPP member)
Accredited in Managerial Co-development (CEDODEV)
Paradoxical approach – Palo Alto (Cycle 1 – Palo Alto Systemic Centre
Member of EMCC.