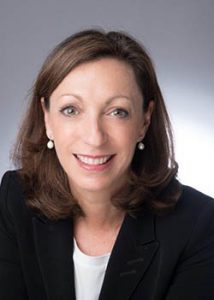 Rosemary Marzio is a bilingual (English mother tongue) experienced, certified business coach. She has an international business background and over ten years' experience working with executives and their teams confronted by an ever-changing global and complex environment. Her objective: stimulate sustainable performance, creativity and unleash potential. Her clients appreciate the trusting relationships she creates, herinsights which enable her quickly to get to the heart of the issue, her pragmatism, and her ability to find the right balance between challenge and support. Not to mention her somewhat dry British sense of humour.
Background
Rosemary was born and educated in South Africa. She spent the first 18 years of her professional life working as a lawyer in New York and London. Her last role before becoming a coach was Senior Vice President, European General Counsel for The Walt Disney Company where she had management responsibility for a significant pan-European legal team, and positions on various company boards. In 2006, Rosemary decided to undertake specialist coaching training when she moved to France, and she subsequently joined the international coaching firm Praesta France where she was co-managing partner for four years. In addition to working with Praesta, Rosemary coaches at EMLyon Business School, and is on the Board of the French charity Orphelins Sida International.
Experience
Rosemary has extensive experience coaching business leaders and their teams in diverse sectors (pharmaceuticals, luxury goods, utilities, new technologies, professional service firms). Her coaching addresses a wide variety of situations, including taking on new executive responsibilities, transitioning from a technical to a leadership role, implementing change, team management, building leadership presence and enhancing emotional intelligence capabilities. Her professional background has given her a particular understanding of the issues faced within professional service firms, multinational and multicultural organisations and by women leaders.
Education
• Institut Transformance, France – Certification in Individual and Team Coaching
• Accredited Senior Practitioner European Mentoring and Coaching Council (EMCC)
• Certified Practitioner MBTI, FIRO-B, The Leadership Circle; Cultural Orientations Framework
• Trained in numerous coaching-related approaches including Systemic Team Coaching (Prof Peter Hawkins, John Whittington, Jacques-Antoine Malarewicz) ; Transactional Analysis; NLP ; Positive Psychology Coaching (Wholebeing Institute Tal Ben-Shahar); Playing Big Facilitators Training (Tara Mohr); Somatic Coaching (Amanda Blake)
• Witwatersrand University, South Africa – Law Degree
• Cambridge University, England – Masters in International Law