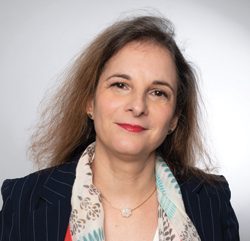 Business coaching is for all the leaders who want to stay on course, give their teams a boost, take a step back from their day-to-day lives, and manage their company as they do themselves, just like great athletes do.
Coaching leaders and their teams, through a process of reflecting then acting, enables the development of individuals and collective sustainable performance.
Background
Catherine has been living with change since she was 15 years old when she chose to pursue her education in a military boarding school (LMA). Living in such a system has largely contributed to the construction of her values: sense of duty, mutual aid and rigor. She created unbreakable bonds in her other family, that of the French "Anciens Enfants de Troupe" (AET), which greatly helped her to understand and work on the impact of indefectable links within companies, especially family owned companies.
Since then, she has enjoyed each of her transitions, wether the change was desired or imposed. She has thus developed a resilience and a realistic positivism that she puts at the service of her clients. Change is a given for her.
She has a broad vision of the company after 18 years of career in the banking sector a different functions which allows her to think of the organization in a global and systemic way (financial, commercial, branch manager, management of 3 to 300 people), HR-training, training project manager international zone).
A former gymnast (French Championship – 90), she places great importance on self-management.
Experience
Catherine coaches leaders both individually and collectively. She frequently intervenes on issues related to change management.
As a specialist of organizations, her interventions allow the realization of shared objectives and make each person responsible for the steps to be taken and the roles to be played within the framework of their mission. She is also recognized for her expertise in the governance of family businesses, for which the success and sustainability of the company requires combining economic performance with family harmony.
Education
ICF Certified Professional Coach – ACC
ICF France – Member of the Partnership and IA Commissions, Member of the Brittany office
Coaching training: MHD and Metasystem
In contract CTA – O (Transactional Analysis)
ESC Troyes (Sup de Co) – Finance option
Master's degree in Banking and Finance, then Master's degree in Training Engineering and Consulting