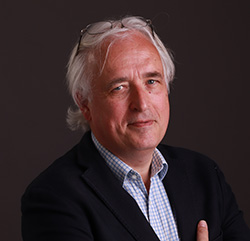 Philippe wanted to become a journalist, then he became a communications consultant. What interested him was helping his client find the right tone, the formula that hit the spot, the positioning that suited him best. One day, confronted with a client in a very difficult situation, he understood that the most appropriate support would require his ability to adopt other postures. Coaching, which Philippe then trained in, offers other possibilities. It allows him to interact with the client in other dimensions, to allow the client himself to be in phase with his reason as well as with his emotions. For Philippe, coaching is a BREC: benevolence and not judgment, stepping back, demanding moments for the client, within the framework of a confidential and friendly relationship.
Career and Experience
Philippe is a partner at Praesta. He is a graduate of Sciences-Po Paris, and also has a master's degree in Political and Social Communication. He began his professional career at Information et Entreprise, a French independent PR agency, which became the i&e Communication group. He created the digital business unit and then the new business department. After nearly ten years with this large independent agency, he joined the American public relations group Fleishman-Hillard in Brussels and Paris to develop the lobbying activity. He then joined GCI, the public relations subsidiary of the Grey advertising group, to develop the group's European practice on technology and digital companies. He then became Director of Communications for Deutsche Telekom France after an interim management assignment. In 2007, after another interim management mission with AOL France, he created his own firm. He developed communication consulting activities, particularly in the digital sector (he counted Google, Microsoft, and several start-ups among his clients). He then trained in coaching and developed consulting and negotiation training missions. Philippe also continues to write through two blogs: his "Chronicles" dedicated to current events, communication, and negotiation and his "Diary of an Executive coach", of which he has published first extracts via Amazon.
Coaching practice
Philippe intervenes in individual coaching, team coaching and organizational coaching. Whether his clients have to take up new positions, prepare their succession, organize their expatriation or return to France, or accompany their team in a transformation, Philippe will help them to understand the system in which they find themselves and the communication mode adapted to achieve their objective. Coaching is a joint work between the coach and the coachee and it is a work of active listening. These active listening processes contribute to clarifying the clients' situation, the stakes, to make them understand their driving forces, resources, to (re) discover the meaning of what they do, of their functions, their missions, of the project they want to realize and succeed. It is about increasing self-awareness as well as self-confidence. When I understand myself, I understand others better. When I am understood by others, I understand myself better. I can then contribute to chasing away the stress and the toxic relational games that can exist in organizations.
Education
Law degree and master's degree in Political Science (Paris 2)
Diploma from Sciences-Po Paris
DESS in Political and Social Communication (Paris 1)
Certified Process Communication Model
Certified Professional Coach (Linkup Coaching, RNCP 7)
Certified DISC
Certified Karpman Process Model