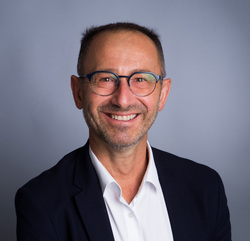 "Trust, the invisible link to the success of your teams. »
Xavier supports executives and their teams in establishing trust to drive performance. His driving force: broadening the field of possibilities, combining dynamism and pragmatism, aligning individual and collective visions to achieve their objectives.
Journey and Experience
As IT engineer, Xavier began his professional career in Paris at Cray Research, the 90's supercomputers world leader. This first experience ingrained his values of quality and excellence to then evolve, in Geneva, in the Corporate world with positions of high responsibility in project management, team management and consulting.
He developed his expertise in the IT sector, within international or Swiss private banks and in international organizations.
In 2006, Xavier founded his consulting firm to support companies in their organizational and digital transformation programs. His mastery in this field has allowed him to highlight the importance of the human sphere in the success of business transformation.
He trained in coaching and neuroscience which he initially put to the service of people in career transition. Xavier then evolves his support towards more strategic and operational mentoring of managers and leaders.
Coaching practice
The common thread of his support is trust and confidence. This element proved to be the essential component for him in his experiences of change management, individual transformation and leadership development of executives and their organizations. Develop soft skills to enable them to genuinely drive collective intelligence and strengthen trust and confidence as the cement of their successful team.
His authenticity, his commitment and his strength of proposition sublimate the energy which drives him in the service of the objectives and fulfillment of his clients. Xavier speaks both French and English.
Formation
Computer engineering degree, FIUPSO Polytech Paris-Sud
Accredited professional coach ICF PCC, International Coaching Federation
Professional Coach Training, IDC Coaching Institute
Training and accreditation SANE Coach & Trainer, SANE Institute
NLP Basics and Technician Training, NLP Synergy
Certified Startrust Executive Advisor, Egg Science
Certified DISC & Motivators practitioner, Assessment 24×7
Certified personality and behavior assessment, Profilscan