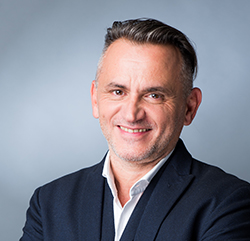 "The meeting of two personalities is like the contact of two chemical substances: if there is any reaction, both are transformed." – Carl Gustav Jung
Esteban supports the managers and their teams in developing the right attitudes and positions necessary to implement the actions that enable them to achieve their objectives. What drives him: encouraging individual meetings that are the source of collective successes. Allow each manager to build the human and managerial environment leading to create new deposits of value within the company.
Background and Experience
Esteban is a partner at Praesta. He brings 25 years of rich experience in international and multicultural environments.
Esteban started his career in Audit (financial, internal and information system) with Arthur Andersen and then Price Waterhouse Coopers (PWC). His missions between France, the United Kingdom, the United States and several African countries sensitized him early on to cultural differences and identity issues. He has accompanied several executives and managers on transformation missions, particularly in the context of company mergers. These different opportunities have led him to collaborate with Human Resources Departments, Finance Departments, or Customer Relations Departments. He also worked with Management Committees, to influence innovative reflections in driving human and Digital transformations.
Esteban continued his career in the premium automotive sector by joining the Daimler group (Mercedes) and then BMW to support major strategic projects. His dynamism, his ability to communicate, as well as his strong power of persuasion allow him to help the Operational Directors to build their action plans and to carry out their objectives.
He was trained to support men and organizations with Vincent Lenhardt, one of the precursors of professional coaching in France. This allowed him to complete his experience of transformations to better integrate the logics of actors in the dynamics of change.
Esteban has worked in the consulting industry, supporting Digital Transformation, where he has facilitated communities of coaches (over 80) specialized in Agility and change management.
Experience as a Coach
As a Sparring Partner, Esteban provides the conditions for success by articulating individual and collective issues. He has developed an expertise in the support of new positions, including high potentials and members of Management Committees. He also works on managerial innovation and on the transformations of managerial cultures in various configurations (individual and collective coaching, solo or team interventions). As a true partner of the leader confronted with the loneliness of the exercise of power, Esteban offers him by the quality of his accompaniment a space of listening and training, ideal for the full development of his personality.
Esteban coaches in French, English and Spanish.
Education
Post-Graduate Degree in IS Management- Mediterranean University (Aix-Marseille II)
Master's degrees in Econometry – Panthéon Sorbonne University (Paris I)
Certification Professional Coach RNCP level 6
Contact Esteban Martinez Querol