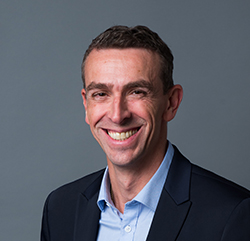 Rodolphe is convinced that the success of any organization depends on the individual and collective development of individuals, he recognized himself more as a People Manager than a Business Manager.
His main aspiration is that the employees around him and the leaders he accompanies are part of the "Happy Few": the 8% of leaders who are content at their work.
Background and Experience
After beginning his career as a consultant, he evolved in various international groups, gradually moving from marketing to sales, until he occupied sales management positions for more than 15 years.
Following which, he handled management positions in France and Europe. He gradually specialized in taking charge, reorganizing, and supporting teams who were going through tough times, within complex multicultural environments.
He was also a mentor and responsible for the training and development of the EMEA Sales Teams, within a European headquarters based in Switzerland. Familiar with the operating methods of the Management Committees of which he was a member, he has also shown his attraction for the negotiation and management of Staff Representative Bodies.
Familiar with crisis and conflict management, his field of experience has led him to find the essential human levers, which has allowed him to successfully lead teams confronted with the imperatives, regarding restructuring and transformation. After building on the richness and diversity of his missions, he decided to highlight his primary passion for people and their development, by formalizing his practice as an Executive Coach since 2017 and then created his training and coaching company. before joining Praesta.
Coach
His 20 years of experience in various fields of Industry – Quality, Regulatory, Marketing, Sales, and HR – have enabled him to properly understand the extent of the issues, issues, and solutions that he has himself. implemented.
Pragmatic and solution-oriented, he knows how to use his managerial and operational experience in business in his coaching practice. He focuses on the individual he accompanies; his relational ease, communicative energy and genuine nature facilitate the establishment of a relationship which is based on trust.
His ambition is that the clients he supports during critical moments, resume their balance between the achievement of strategic objectives and their personal fulfillment, within a complex professional environment. He also flourishes within the animation of workshops, which are aimed at developing the spirit and group cohesion, to instill a new dynamic revolving around a common objective and the implementation of individual and collective action plans. He coaches in French individually and collectively.
Education
Certified Professional Coach – Coaching Academy
Master Practitioner in NLP – IFPNL
Certified DoLquest Expert – Switzerland
DESS Economic intelligence – Marne la Vallée
Biomedical Engineer – UTC
Contact Rodolphe Langrand