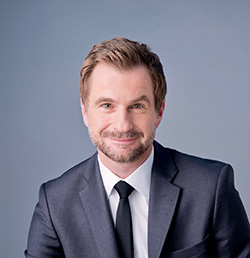 Coaching provides organisations, and the individuals that make them up, with measurable long-term benefits. All Executive Committees have untapped resources. If these are identified and nurtured, they can enable each Executive and their respective teams to develop a collective intelligence, to co-create and generate a high level of added value in relation to their competitors in the market.
Background and Experience
Raphael comes from a French-Polish background. He did his studies in France, specialising in human resources at ESSEC. He started out his career in the corporate services sector working in Business Management and then worked for French and English Executive Search firms. After several years in management positions with a head-hunting firm, he decided to create his own Executive Head-hunting business in Paris.
Working closely with the Management Boards, he helped many major Groups find the best Executives on the market. With this experience, Raphael became convinced he could do even more to help companies improve their performance. Consequently, he obtained professional qualifications in coaching. Throughout his career, Raphael has sought to unlock the potential of the people he has worked with. Coaching enabled him to acquire the skills and processes to help managers to push back their limits, increase their added value and achieve new levels of results over the long term. Raphael is Director of Praesta since 2015. He is also an ICF-certified PCC (International Coach Federation) coach and Past President of ICF France. Raphaël is Supervisor of Professional Coaches. Raphael is a keen sportsman and marathon runner.
Experience as a Coach
Raphaël coaches managers/executives on both an individual and collective basis. His professional experience as a Co-Founder and Partner in several firms means he is used to working with Managers and Executive Committees in major groups. Drawing on this experience, as a coach, he fully understands the situations and challenges that managers and their teams face on a day-to-day basis.
Raphaël coaches in French.
Education & Qualifications
Supervisor of Professional Coaches
Professional Certified Coach PCC by ICF
CF France – Past Président
International Mozaik – Master of Business Coaching & Supervisor Training
ESSEC – Human Resources