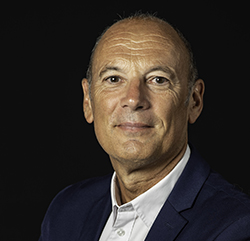 Christophe embodies the philosophy of success through learning. His motto, "I never lose, either I win or I learn," reflects his dedication to continuous improvement and learning. He sees himself as an essential co-actor in building trust and seeking quality performance. His holistic approach to his clients, which he has developed over the years, has helped build strong and lasting relationships while helping clients achieve their goals.
His rich experience, commitment to client success, and relentless desire to learn and share knowledge make him an invaluable coach for those seeking to achieve their professional goals.
Background and Experience
Christophe has accumulated an impressive 20 years of experience in the banking sector. His professional rise led him to hold major management positions at renowned financial institutions. He has led teams with strategic vision, driving growth and profitability.
Beyond his banking career and training, Christophe is also an experienced business coach. He relies on creativity and narrative approach to help his clients find the path to success in their goals.
Her ability to stimulate innovative thinking and use powerful narrative techniques allows her clients to overcome complex challenges and define clear success trajectories.
Coaching approach
Christophe is also an experienced Ironman triathlete, constantly pushing his limits. This passion for sport has shaped his unique approach as a corporate coach. He understands that the world of sport requires discipline, resilience and determination, qualities that translate perfectly into the business world.
Christophe leverages his experiences as an Ironman to help his clients overcome obstacles and achieve their professional goals with the same perseverance he demonstrates on the Ironman journey. His ability to use sports resources to boost motivation, stress management and problem solving among his clients is one of his key assets as a Sparring Partner. This unique approach shows its commitment to go beyond expectations for the success of its customers, whether on the finish line of a race or in the business world.
Education
Professional coach RNCP 7 (master 2)
Certified international Action Learning coach © WIAL network
Certified Afest