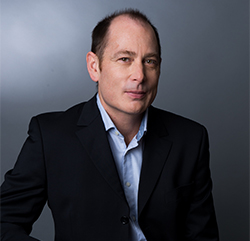 "What are the consequences for organizations whose Leaders adopt coaching leadership or who work with a coach? These Leaders will obviously create the conditions for the emergence of a culture of high performance. »
Sir John Whitmore
Background and Experience
After graduate studies in social sciences, law and economics, Florent became passionate about information and communication sciences applied to organizations, in a systemic, dynamic and cultural approach.
For nearly twenty years, Florent has accompanied major global groups – Renault, Stellantis, Thales, L'Oréal – in the global influence of their brand and their ability to communicate strategic visions that are both attractive and unifying for their talents.
As an expert in communication and commitment, member of management committees, Florent has supported many leaders in the implementation of projects and strategic transformations: purpose and brand values, managerial communication, new offers, new organizations, employee engagement programs.
Certified Coach Consultant, specialist in resilience, Florent joined PRAESTA France to support the growth of Leaders and the transformation of their organizations, for sustainable superior performance.
Practice of "Sparring Partner"
Because being a Leader is a high-level sport, Florent positions himself as a "training partner", to offer Leaders a space to develop the key answers for their performance.
Florent coaches and advises managers both individually and through collective processes.
Coaching and strategic mentoring have established positive effects on performance and skills, on self-regulation capacity and resilience, and on professional relationships to achieve goals.
Florent offers personalized support, via a rigorous methodology, placing quality of listening, questioning strategy and situational intelligence at the center of his approach.
Education
Paris V University : Two-year degree in Economics / Law
CELSA Sorbonne University :

Magister's degree in Global Communication
Master's degree in corporate communication

Linkup Coaching : Coach Consulting Certification