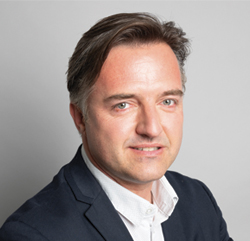 «One can only see well with the heart. What is essential is invisible to the eyes.»
Antoine de Saint-Exupery
Background and Expérience
Trained as both an artist and a scientist, Jean-Christophe chose to put his creativity at the service of the greatest number. Recruited by the L'Oréal group for the design and launch of innovative cosmetic products, he quickly took on management responsibilities in France, Belgium and the Netherlands. Inspired by the simplicity and wisdom of the Okinawan centenarians' lifestyle and eating habits, he created a start-up and launched his own brand of health foods with the help of a nutritherapist.
From his 20 years of experience within an international group and then as a business creator, Jean-Christophe has kept a taste for challenge, for managing and developing teams, as well as for high-level negotiations. Passionately involved in the associative and sporting environment of his territory, Jean-Christophe has also led a career as an elected official, first as a General Councillor and then as Deputy Mayor.
He collaborated with elected officials, prefects and government services, creating with them privileged links in a climate of trust to solve the daily problems of the inhabitants. He has particularly invested himself with enthusiasm in urban planning and housing issues, accompanying developers and social landlords in the realization of their real estate projects.
In this way, he has gained recognition for his ability to federate and move forward together diverse parties around a common project. Thanks to his experiences, which have taught him the diversity that can exist in the exercise of leadership, and his attachment to the human aspect, he naturally came to coaching, which he practices with the passion that characterizes him.
Coaching practice
The driving force of a leader comes from the alignment between his ambitions, his convictions and his daily commitment. Jean-Christophe is convinced of the power that results from this alignment.
He also likes to help leaders reveal the deep meaning that drives them in the service of collective projects. Adept at creativity and collective intelligence techniques, enthusiastic, positive and adept at convivial moments, Jean-Christophe knows how to create a space of trust and strict confidentiality, conducive to deep work, in complete serenity. His ability to listen and to challenge, allows the coachees, individually or in teams, to reach objectives they did not believe they could reach.
Capable of bringing about powerful awareness, of removing the obstacles that prevent the realization of full potential, Jean-Christophe has concrete experience in accompanying leaders in their accession to positions of responsibility. In this context, he has also worked extensively on female leadership.
Jean-Christophe coaches in French and English.
Education
Coach trained by Activision and ICF
ACTH certified Master of Art – Royal College of Art (London)
Engineer Centrale (Lyon)
Imperial College of Science Technology and Medicine (London)
Contact Jean-Christophe LORIC