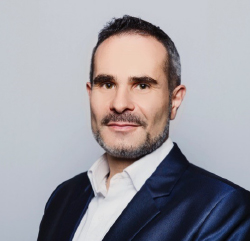 Excellence is not a choice, it's leadership prevailing Attitude!
For leadership excellence; be a manager of the possible and a leader of the impossible!
Background and Experience
Eddy has more than 30 years of in-depth experience in executive positions and managing businesses in EMEA and USA. For the past 12 years, he has been a luxury excellence management strategist and mentor to numerous CEOs in the high-end and luxury sectors.
Recognized as Luxury Experts. He is a DBA's guest professor at San Diego University of California ESGCI, ranked N°1 Luxury DBA Dubai & N°3 in Asia. He helps leaders and teams create even more value by focusing on excellence, behavioral change and team building to activate an ultimate talent competitive advantage. He has worked with business owners, family business leaders and Luxury executives.
Clients consistently commend his results-driven personality combined with his confident and energetic character. A good listener and problem solver with in-depth business knowledge and cross-cultural understanding, he has also been recognized for his creative and analytical skills.
Since 2020, he is General secretary of French Federation of professional coaches FFC Pro. He has worked, lived or studied in Geneva, London, Paris, Malta, Brussels, Amsterdam, Luxemburg and Dubai. He coaches in French and English.
Coaching practice
Eddy intervenes in individual coaching, team coaching and organizational coaching.
He draws on his research as he helps leaders make every conversation a difference-making experience. He has provided executive coaching and leadership excellence training programs in 20 countries. He also works with organizations to create learning & coaching cultures that improve both productivity and performances.
Eddy is known as an "leadership Excellence Coach" for over two decades he has been working with executive teams to measurably improve their leadership excellence and organizational effectiveness. Furthermore, as business model originator on Global Experience Management, he travels the globe training executive of luxury and business leaders in using the BMBM methodology.
His experience in coaching coupled with an understanding of board and executive team dynamics and patterns of effective leadership across luxury industries especially, has helped organizations and executives identify gaps and lead more effectively to develop business excellence strategies.
Education
University Diploma in Executive Coaching – DUEC Paris CY University
MBA in Luxury Marketing Management – ESG Paris School of Business
Master II in Marketing – ESGCI Paris School of Management
Amiens University Diploma in Management of International organizations
Team Coaching Certificate – ICHEC Brussels School of Management
Certified MasterCoach ICI™ – International Coaching Institute of Geneva
Certified NLP Master Practitioner – Robert Dilts Repere Institute
Neurosciences Practitioner – INA Institute of Neurosciences Applied Paris
Certified DISC & Sigmund Tests on predictive behaviors