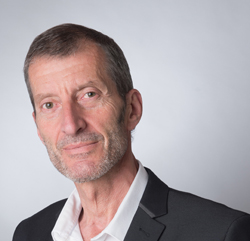 What lies behind us and what lies before us are tiny matters compared to what lies within us
Oliver Wendell Holmes
The present situation is often a gift that we usually don't know how to read, or only through our biased prism. The coach is a revealer to help make the most out of what we have at hand, within us, as untapped potential.
Background
With an education in foreign languages – English and Russian – completed with a specialization in HR Development, Jean-Pierre rapidly made his way through a pioneering Executive HR international career which led him to live several years abroad (USA, Belgium).
For nearly 30 years he worked for companies of all sizes and kinds, in Banking – Lazard Group, IT- Stern Computing Systems, Manufacturing – Volvo Group, United Technologies and Marketing Services – NPD Group. As a member of various executive committees and as an HR leader, Jean-Pierre conducted many change initiatives where his personal touch brought on board whole organizations through development success.
Pulled by an entrepreneurship spirit, he also partnered in Business Development to develop a Silk Trading private company.
Since 2018 he naturally combined his experience through his own HR consulting company, and joined Praesta France in March 2021.
His approach to Coaching
Early trained as a Leader and Coach, in the early 2000, recognized expert in HR management and leadership development, Jean-Pierre kept this attitude in developing his teams as well as the executive committees he participated in.
His natural ways bring together the serenity of his experience and the dynamics of the many sports he practises, that give him the focus to obtain results. Once, and still, a running, ski and mountain bike competitor, he also is inspired by the principles of Aïkido martial art that he used to teach and practise as a 2nd dan black belt: "nobody can take my strength, because I'm not using it". The success of realization lies in technique, practise, appreciation of the contact with the other person and letting go our own flow.
Jean-Pierre is an instinctive connecter to individuals creating a confidence zone where they can reveal themselves under a new light that shed surprising successes.
Jean-Pierre coaches in English and French.
Education
Lyon University: MSc foreign languages (English and Russian)
IGS (Lyon): MSc HR Development
Activision : Business coaching training
Contact Jean-Pierre Trouilloud