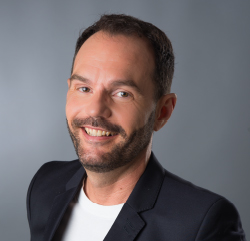 "Insanity is doing the same thing over and over again expecting different results." A. Einstein
Evolving, renewing oneself, seeing things from another angle to find the best approach, transforming moments of doubts into opportunities to grow, develop one's vision and leadership, these are the stakes that Ludovic likes to address with his clients. Because moments of questioning and crisis are for him opportunities to reinvent oneself, find new solutions and implement them with perseverance even within complex organizations.
Ludovic's role with leaders, managers or management teams is to accelerate awareness, at the individual or collective level, and to help take distance, to question oneself, to constantly adapt and move ahead in a world where uncertainty is the new paradigme…
Background and Experience
Ludovic began his career in journalism before switching to communication. He joined the marketing department of Carrefour France in 2000, where he held various positions, e.g. Media director, before joining Fnac in 2006 as Brand and advertising director. While the premises of the financial crisis are already there, in 2007 he joined the Dutch group ING Direct, the online banking leader, as Head of communications. Member of the Retail Management Committee, he will actively contribute to the growth of ING in France and to the transformation of the company at a strategic, human and organizational level.
He joined Carat/Dentsu Aegis Network in 2015 as Deputy Managing Director, with the conviction that leading and supporting teams was key in any organization.
Trained in the 2010s in coaching as a manager, himself coached several times, it was quite natural that Ludovic passed his certification in 2017 to devote himself solely to this activity and contribute to creating value for the company via its main asset: people.
Coaching practice
Ludovic focuses on two thing: meaning and energy.
Meaning: understand the meaning of what we go through, give meaning to what we do, to what we wish, for ourselves, others, the society… Whether it is a person, or an organization, it is essential to clearly define one's vision, to know where you want to go, and to stay focus.
Then, energy is essential to achieve one's objective. Without it, nothing moves forward, even the clearest strategies will give nothing without a structured and monitored implementation. As well as too much unchanneled energy will lead to a storm of ideas and projects… with unfortunately few concrete and lasting results!
Accustomed to evolving in matrix and international environments, Ludovic is experienced in complex situations and places the empowerment of people at the heart of his approach, an essential lever to maximize individual and collective success.
Education
Certified Coach (RNCP6) / Coach Académie, Fr.
MBSR Certification (Mindfulness-Based Stress Reduction), Mindfulness Meditation / Center for Mindfulness Studies, Toronto, ON.
The Essentials of the Coach Manager (S'Coach)
Master Degree in Bilingual Journalism (Sorbonne Paris 3)